There is more to Tennessee than just Nashville. In fact, a few miles south of its capital is where it's really at.
Franklin, Tennessee is a historic 200-year-old city with streets that speak and sing for itself. There is a lot to do here. Let's start with the best 25:
Interactive Map of 25 Things to Do in Franklin (TN)
---
1. Historic Downtown Franklin
---
In the heart of the city is a collection of Victorian buildings and homes that brings one back to earlier, simpler times. This historic downtown has been given all of the accolades – America's Favorite Main Street, Best Small Town in Tennessee, America's Greatest Antique Destination – and here's why:
Historic Downtown Franklin has 16 blocks that perfectly preserve the city's Southern heritage. In one row, there are antique shops abound. In another, truly classic Southern restaurants owned by renowned chefs like Jason McConnell. Up to this day, this is where all of the city's best dining options and shopping outlets can be found.
2. Pilgrimage Music & Cultural Festival
---
The City of Franklin is a city of music in its own right. Aside from being the birthplace of acclaimed artists like Miley Cyrus and Paramore's Hayley Williams, it is also home to the Pilgrimage Music & Cultural Festival.
For two days during the last week of September, this festival and its stunning lineup bring thousands of music lovers to the open grass of Franklin's The Park at Harlinsdale Farm. Think big names such as Justin Timberlake, Lionel Richie, and the Foo Fighters, as well as a handful of local bands and artists, all coming together to have fun and entertain.
3. Franklin Farmers' Market
---
Back in 2002, eight local farmers who saw the need to preserve Tennessee's rich farmlands set up a temporary shop a few blocks away from the city's historic downtown area. Nearly 20 years later, their one-time event has become a staple in the city.
The Franklin Farmers' Market is a weekly bazaar that features products and harvests from over 80 local farmers and small-time business owners. From 8 o'clock to 12 noon every Saturday, expect to find a concentration of the freshest meats and greens together with meals, pastries, and a variety of novelty items behind Franklin's famous Factory building.
4. The Factory at Franklin
---
Decades ago, the The Factory at Franklin complex across The Park at Harlinsdale Farm was home to a stove-manufacturing company known as Dortch Stove Works. Over time, it also became the production house of appliances and beddings. Now, The Factory is all the City of Franklin's.
Underneath the iconic water tower seen along Franklin Rd. is a wide space that holds almost everything under one roof. Beside galleries and small-time jewelry dealers are locally-grown bakeries and restaurants. Beyond them are event spaces that can easily transform the Factory into an altar for a wedding or a stage for live music.
5. Harlinsdale Farm Park
---
The Park at Harlinsdale Farm is best known outside of Franklin as the site of the annual Pilgrimage Music & Culture Festival. On any other day, it is a recreation center filled with history.
Harlinsdale Farm was once a breeding ground for award-winning stallions, the most famous of which was 2-time World Grand Champion Tennessee Walking Horse Midnight Sun. Today, it offers various trails that snake around the many historic, colonial revival buildings in the property. At its Tractor Supply Arena, the Franklin Polo Academy continues to hold polo matches and horse shows for the general public.
6. Creekside Riding Academy & Stables
---
Tennessee Walking Horses have been around since the 19th century. With the rise of technology, they are not as essential a part of local Tennesseans' lives as they used to be. Creekside Riding Academy & Stables along Franklin's Lewisburg Pike would like to change that.
There are horses of all colors and sizes on the green grass by Rutherford Creek. The folks at Creekside will be more than happy to introduce them to anyone who wants to learn more about horses – whether alone or in a group. They are also open to hosting parties and events.
7. Leiper's Fork Village
---
A few miles away from Historic Downtown Franklin is a village that has been around for over 200 years. Located along the scenic Natchez Trace Parkway, the few acres of Leiper's Fork is home to about 600 people. Standing proud along with them are a number of restaurants, distilleries, and bars.
In the same vein as the city it belongs to, Leiper's Fork is a haven for artists. Within its repurposed barns are galleries, antique shops, and boutiques, and outside of them are alternative stages for open mic nights and the community's very own outdoor theater.
8. Leiper's Fork Lawnchair Theater
---
The boarded-up cedar logs and wooden planks behind the Leiper Creek Art Gallery is not a building, it's a theater. These were previously used as makeshift platforms for musicians. A few years ago, a pair of brothers opted to host movie nights here instead.
There is no airconditioning at Leiper's Fork Lawnchair Theater, only the fresh breeze. The theater does not show the latest Hollywood blockbusters, but expect to find classic hits and family-friendly flicks rolling on its outdoor screen. The whole family is invited to bring lawn chairs. If they come with a leash, pets are welcome as well.
9. Puckett's Grocery
---
Puckett's Grocery in Leiper's Fork is a destination in itself. Since 1953, it has been everything Franklin locals have wanted it to be and more. It is a grocery and a restaurant, as well as a stage for country artists.
At its core, Puckett's Grocery is the best place to have a taste of the Puckett Family's praise-worthy Southern cooking. Their burgers have made it on the pages of USA Today, The New York Times, and The Washington Post.
10. The Country Boy Restaurant
---
The The Country Boy Restaurant is the oldest-running diner in Williamson County. Locals regularly flock here for their fill of home-style Southern cooking. Its open secret is that it serves more than just good food.
The run-down exteriors and interiors of this decades-old family-run diner will scare rather than impress, but their breakfast treats will make anyone want to call it home. The Country Boy Restaurant's sausage and bacon plates served with a cup of coffee and biscuits and gravy are among its biggest hits. That and the feeling of community one gets when here, of course.
11. Masters & Makers Trail
---
With the strong taste of Tennessee whiskey like no other, it is a fact that the Volunteer State is the place to be for good alcohol. It's a place where so many of the finest vineyards and best distilleries are.
The Masters & Makers Trail is a wine tour initiative the City of Franklin started a few years back. Beginning with Arrington Vineyards and ending at Millcreek Brewing, it is a walk back in time that comes with its own passport. Explorers of the trail get front-row seats to see where the magic happens, and a taste afterward.
12. Franklin Antique Mall
---
In this shopping outlet, there are items that are as old—or maybe even older—than the building it's in itself. The Franklin Antique Mall holds shop at what was once the Franklin Ice House. There is something for everyone in this 12,000-square-foot facility in Historic Downtown Franklin.
Ran by Franklin local Amanda Pitt, the Franklin Antique Mall has been around for more than 40 years. What started as a family business now has over 65 antique dealers and collectors working together, each with a stall unlike the other.
13. McEwen Shopping Center
---
McEwen Drive is as long as roads can go in Franklin, Tennessee. At the intersection it shares with Mallory Lane, that is where the buzz is. In contrast to the old-brick buildings that dominate Historic Downtown Franklin is a place that's a step into the future.
The McEwen Shopping Center is located in the heart of Franklin's new business district. It was built in 2012 to complement the new apartment and office buildings that have suddenly popped up. As such, high-end stores and luxury franchises such as Lululemon and Mountain High Outfitters followed suit.
14. Franklin Bridge Golf Club
---
Only the best of the best can take on a golf course designed by Gary Roger Baird. Perhaps one of his most challenging courses to date is the 18 holes of the Franklin Bridge Golf Club.
Sitting on the banks of the Harpeth River, the Franklin Bridge Golf Club is more than just an Everest for the world's best golfers to conquer. It has a grass tee practice facility with 20 stations, and a grill room to cater to its guests. The place that was formerly known as Forrest Crossing Golf Course is also open to other kinds of events.
15. Timberland Park
---
About a mile south of the Double Arch Bridge of Tennessee Highway 96 is one of Franklin's biggest parks. Animals roam freely and birds come and go as they wish in the more than 72 acres of Timberland Park.
The diverse wildlife and trees are all stars in this park, but the 2,000 square foot interpretive center its local rangers run is its highlight. Visitors can go up for a hike, and then go down to learn more about what they just saw.
16. Winstead Hill Park
---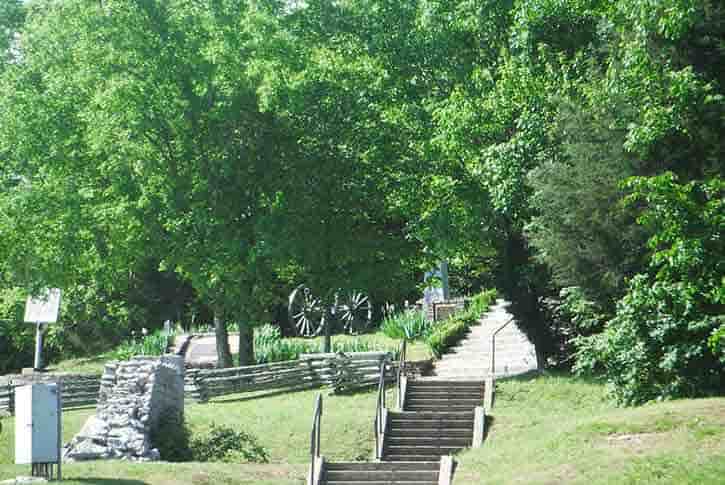 Parks in Franklin are as historic as they are scenic. The 61-acre Winstead Hill Park is proof. Located on the corner of Mack Hatcher Parkway and Columbia Avenue, it tells of a story that will not let itself be forgotten.
In the 1860s, this hill is where General John Bell Hood prepared to fight the approaching Confederate troops. An informative battle map on the park grounds narrates the events that followed, and a few canons still stand here up to this day in memory of all the men that died.
17. SOAR Adventure Tower
---
Adventure is along Franklin's Carothers Parkway. SOAR Adventure Tower is an interactive obstacle course that stands at four towering levels above the ground. Although built with kids in mind, adults are welcome to join in on the fun.
Fully equipped with safety precautions under its over 110 climbing elements, the tower is sure to give visitors of all ages a fun and worry-free good time. Guests have two hours to make it through all the levels of the tower. The recreation center also has an 18-hole music-themed miniature golf course within its grounds.
18. Hot Air Balloon Adventure
---
Middle Tennessee Hot Air Adventures can show you the City of Franklin in a way that you have never seen it before. While the family business offers balloon rides above Nashville and beyond, its home is in Franklin, Tennessee, and this where all of the adventures with them will start.
The company has three balloons at its disposal, each of which can hold up to five persons at a time. A father-and-son team is behind this company's success. Henry and Logan Bedford pilot the balloons themselves, and they are both licensed by the Flight Aviation Administration (FAA).
19. Natchez Trace Parkway
---
The 444-miles of Natchez Trace Parkway zigzags through three states and two dozen cities and towns. The part of it in Franklin is only a pinch in this long road, but this is where the Double Arch Bridge can be found.
Natchez Trace Parkway is filled with history. It is a trail that both Native Americans and European settlers traversed during America's early days. These days, it is the perfect place to ride into the sunset with the lush hills and rich greenery surrounding it left and right.
20. Tennessee Civil War Trails
---
The City of Franklin was a key figure in the American Civil War. It was where the Battle of Franklin took place in 1864. In and around this city are remnants of this time in the past. The Tennessee Civil War Trails narrows down the most noteworthy of them to 12.
In Historic Downtown Franklin, there is the lodge that became that Franklin Masonic Hall. Across the Harpeth River are the ruins that used to make up Fort Granger. Other sites include the Confederate Cemetery National Landmark, McGavock's Grove, and the Eastern Flank Battle Park.
21. Lotz House Museum
---
German immigrant Johann Albert Lotz and his family survived the civil war relatively unscathed. Save for a slab of their wall, so did their house. Ever since 2008, the Lotz House has been a museum to remember that time.
In the mid-1800s, the Lotz House served as a 'show house' for the family to showcase their talent and skill in carpentry to potential clients. Centuries later, the pieces of furniture they crafted still remain. The fireplace in their living room continues to be as regal as it was years before, and their wooden staircase is as sturdy as ever.
22. Carter House
---
A street across from the Lotz House Museum is the modest 190-year-old, brick-walled Carter House built by Fountain Branch Carter. The Carters were instrumental in the survival of the Lotz family during the war as it was the very basement of their house that saved.
In a bid to prevent the house's demolition, Carter House has been owned by the State of Tennessee since 1953. It has also been open to the public as early as then. Daily tours and its upkeep are held and managed by the non-profit organization The Battle of Franklin Trust.
23. Local Art Galleries
---
There's an entire community of artists in the City of Franklin. Many of its old buildings are unassuming on the outside. Inside, they are art galleries that exhibit the talent of today's local Franklin artists.
In Historic Downtown Franklin, Clouston Hall looks like any other colonial townhome. While it played many roles all throughout its 199 years of existence, it is now an art gallery called Gallery 202. All the way in Leiper's Fork is a repurposed barn with the same agenda. The David Arms Gallery is the art studio of Tennessee native David Arm.
24. Catch Local Musicians in Action
---
Live music events are all over the City of Franklin. Local musicians here will play anywhere and everywhere they can find an audience. They don't need theaters and stages. Like they do at Puckett's Grocery, sometimes open mic nights are enough.
There are dozens of spots to catch a local Franklin musician in action. From March to November, Arrington Vineyards holds the live music event "Music in the Vines". Downtown, the Viva! NashVegas Radio Show performs every Saturday at the Legendary Kimbro's Pickin' Parlor. The Franklin Theater and Gray's on Main regularly welcome performers, too.
25. Annual Main Street Festival
---
Franklin's Annual Main Street Festival tradition is where the city's rich culture and history all come together. For two days each year, the streets of Historic Downtown Franklin send away cars and allow the people behind the Main Street Festival to take over.
Hundreds of arts-and-crafts booths, food stalls, and live music stages constantly fill Franklin's Great American Main Street during this event. It's a dizzying affair that has become so overwhelming in recent years that an app has been released to help guests navigate. Last year, a pet zone called the Bark Lounge was introduced.