Sandusky is a city in northern Ohio on the shores of Lake Erie. The city is well known amongst adrenaline lovers as it is home to a few amusement parks. With historical buildings being renovated into restaurants, Sandusky is reinventing itself.
Interestingly, many of Sandusky's attractions involve water with Lake Erie, indoor water parks, and neighboring islands being the main destinations around the city. In fact, over half of the city's territory is made of water!
Interactive Map of 25 Things to Do in Sandusky (OH)
---
1. Cedar Point
---
Sandusky is known as the American "roller coaster capital" mainly because of the amusement park of Cedar Point. This is an extensive amusement park with several water slides, carousels, roller coasters, and entertainment. Cedar Point also has a water park, bungee-jump, and catapults, as well as family attractions. Due to its large size, the staff suggests specific itineraries like Ride Warriors, Chill Vacationers, Pint-Sized Thrillseekers, and Water Lovers.
The park also received the Golden Ticket Award for "Best Amusement Park in the World" for 14 consecutive years. In fact, the park has over 18 rides, and the most famous are GateKeeper, Raptor, Wicked Twister, and Valravn.
2. Kalahari Resorts Sandusky
---
Located 5 miles from Lake Erie, Kalahari Resorts Sandusky is an African-themed resort with rides and waterslides. The resort also features a 7D Motion theatre, mini-golf, mini-bowling, an escape room, laser tag, and 9 dining options. The entire establishment is huge and very well maintained. It mainly consists of several interconnected hotel buildings with a wide range of entertainment and activities.
Kalahari's highlight is the indoor water park, which is gigantic and fun for the whole family. Also, the water is always warm which is perfect for a winter vacation. And the lines are not too long for the water slides, unlike most of the other parks around.
3. African Safari Wildlife Park
---
African Safari Wildlife Park is a large park with a range of African animals such as monkeys and ocelots. Upon arrival, you purchase cups of food with pellets, lettuce, and carrots. And as you drive through the safari and the animals approach the car, you can interact and feed them.
After the drive, you park your car and go through a walking safari to see many more animals in the wild. The park also has an aviary with many wonderful birds, which you can also feed. They also have a gift shop and a cafe.
4. East Harbor State Park
---
East Harbor State Park is a recreation area on the shores of Lake Erie with scenic wetlands, wildlife, a beach, and camping. Overall, the park is always clean, the staff is really nice, and there are great activities for both kids and adults. Also, the campgrounds are spacious and organized, making this a perfect camp base to explore the surrounding area.
The main activity is to hike since the park has multiple, easy trails taking you along the lake. You can also choose to go fishing from the shore or lay in the sun at the beach.
5. Marblehead Lighthouse Historical Society at Marblehead Lighthouse State Park
---
Marblehead Lighthouse State Park preserves and tells the story of the lakeshore Marblehead Village featuring a storied lighthouse with a museum and public tours. The whole area is beautiful, and you cannot go wrong with a lighthouse, keepers' quarters, beautiful rock formations, and a view of a remote island.
The lighthouse itself offers a breath-taking view of Lake Erie and Cedar Point in the distance. Make sure to check the schedule so you can do a tour of the lighthouse. You will learn more about the construction and history of the building as well as the history of the US Coast Guard.
6. Great Wolf Lodge Water Park Sandusky
---
Located 9 minutes walking from Sandusky Mall, the Great Wolf Lodge Water Park is a resort that features an indoor water park and a grand lobby with kid's evening entertainment. With multiple dining options including a grill-style restaurant and a donut cafe, this is the perfect accommodation when traveling with kids to Sandusky. Make sure to take the little ones to the ice cream-themed children's spa. They will for sure have a blast!
The water park itself is super fun with creative rides, from huge water slides to small ones for the little kids. There are also basketball hoops in the pools, and you cannot forget the lazy river.
7. Nickel Plate Beach
---
The 12-acre lakefront stretch of the sandy beach of Nickel Plate Beach features picnic facilities, volleyball courts, and a playground. The beach is actually located in Huron, 20 minutes driving from Sandusky.
The area is beautiful all around and the water is super clear. With very soft sand, you can walk out in the water quite far and the water still will not reach your head. This is a great place to go if you are a sand glass or rock hunter. There is also a little stand selling water floaties, buoys, and snacks.
8. Ghostly Manor Thrill Center
---
Ghostly Manor Thrill Center is a family-friendly entertainment center with a haunted house, mini-golf, a 3D theater, and a skating rink.
The center's highlight is the haunted house on-site, which is one of the top-rated of its kind in the US. The house is well designed, and the actors take an extra effort in scaring you. This is more a catch you off guard scary than horror scary. However, the new escape room is also quite popular. With a limited amount of time, you need to solve the puzzles in order to survive and escape the room.
9. Sports Force Parks – Cedar Point Sports Center
---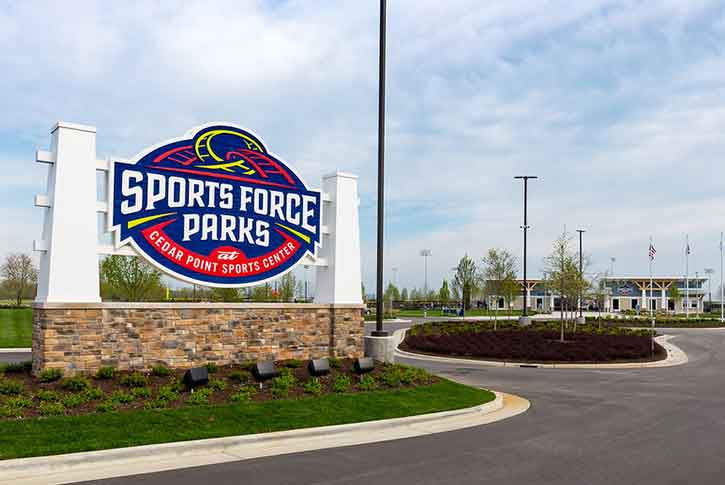 The modern park of Sports Force Park/Cedar Point Sports Center is a sports venue with great amenities to spend down time in between games. This is where the Sandusky community go for tournaments of different sports such as soccer, baseball, softball, lacrosse, and more.
Besides the sports events, the park also features other activities including the Sky Trail Ropes Course, mini-golf, soccer darts, and speed pitch. Not to mention the great lawn where they stream movies on warm summer evenings. And at the end of the day, gather around at the promenade and try one of the many concessions stands.
10. Shoreline Park
---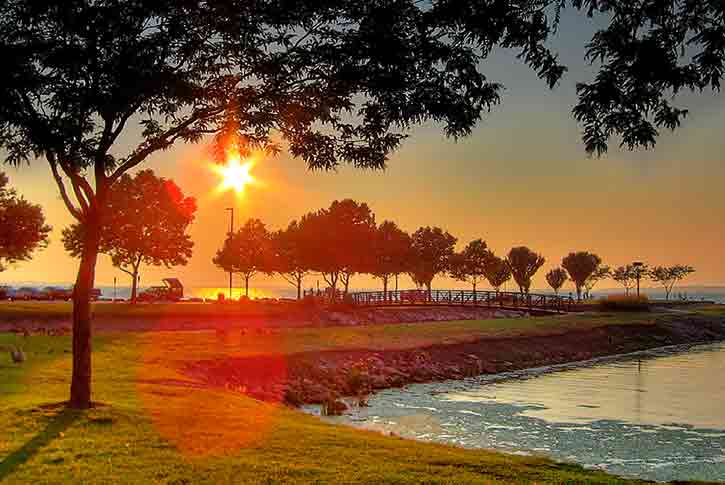 Shoreline Park is a recreation area along Lake Erie featuring a playground, picnic tables, fishing, and concessions. It is a very nice park with excellent views of Sandusky Bay and Cedar Point. Whether you just sit and watch the boats or go on a nice walk around the park, take in all the beautiful scenery and peace. The park is also filled with history given that the underground railroad used to be right there.
The best time to visit it is in the spring when the weather is not so hot, and the baby geese are hanging around. And if you stop there be sure to get a sandwich at Grinders.
11. The Watering Hole Safari and Waterpark Monsoon Lagoon
---
The Watering Hole Safari and Waterpark is a great playground for the whole family with waterslides, a go-kart track, an arcade, and a mini-golf course. This amusement park pleases everyone with its wide range of activities. The highlight is the Monsoon Lagoon Waterpark with its slides and lazy river.
Besides, it is home to animals from all around the world so be sure to visit the Drive-Thru Safari and Zoo and take the kids to feed the animals at the Petting Zoo. At the end of the day, take a break and relax at the Swim-Up Bar.
12. Cedar Point Shores
---
Located near Cedar Point, Cedar Point Shores has 18 acres filled with attractions in a family-friendly water park. In addition, shops, restaurants, and places to relax are part of the experience. The park features plenty of slides, a lot of kid-friendly areas, and two lazy rivers. Although one of them is not so lazy. There is also a nice adult pool with a bar but, take your ID or you will not get in.
And if you get there early enough in the day you will have the chance to get one of the private cabanas near the wave pool.
13. Sheldon Marsh State Nature Preserve
---
Filled with trails in a 472-acre nature preserve, Sheldon Marsh State Nature Preserve features coastal wetlands, wildflowers, and nearly 300 bird species. This is an excellent place for a hike and history class about Cedar Point's 1st road.
The road has two sides with trails that wind through the bordering woods. They all merge together near the Marsh and continue as one path down to two separate beaches, one on either side of the road. At the end of the road is the old water plant which has large cement blocks around it where you can fish from.
14. Huron Pier and Lighthouse
---
Located on the West side of Huron Harbor, Huron Pier and Lighthouse is a great place to hang out and walk around. Lake Erie is very peaceful and from there you get a great view of Cedar Point. This is quite a popular attraction for those who want to swim or go fishing, and the walk to the lighthouse is around 1.5 mile-long.
The park also counts with little restaurants, bars, gazebos, and boats pulling up. There are also many information cards which make the walk that much more interesting.
15. Lake Front Park
---
Located in Huron, Lake Front Park is a beautiful city park with paved paths, benches, and grassy areas with large shade trees. This is a great place to take the kids since it has a great playground and a very calm beach. In fact, the water stays shallow pretty far out.
You can easily spend an hour or the whole day there. And as the park is nestled right into quaint downtown Huron you will be only a short drive or walking distance away from other attractions.
16. Lions Park
---
Lions Park is a waterfront park with playgrounds and BBQ grills, plus courts for tennis, volleyball, and basketball. There is an incredible playground for all ages with a "mommy and me" swing and a handicap friendly one as well. Not only do they have the standard playground equipment like swings and slides, but they also have a neat little section where kids can climb and play in the sand.
The splash pad is great, and the kids can play and get wet while the adults sit on nearby benches and watch. Besides, there are two large picnic pavilions near the water and a path for walking, jogging, or whatever exercise you choose.
17. Merry-Go-Round Museum
---
Merry-Go-Round Museum features a working, vintage carousel, a collection of antique, carved animals, and a gift shop. This small museum is located in a former post office and is packed with history so everyone can find something they like. The museum has a lot of interesting information and a collection of carousel animals and other artifacts including all the painted hand-carved wooden horses.
The staff is extraordinarily knowledgeable about every piece in the museum. If you are lucky enough, there might be a woodcarver there to answer all your questions about creating horses. You might also be able to watch as some new Merry-Go-Round animals are being carved.
18. Goofy Golf
---
Goofy Golf is an outdoor amusement center open from May to October featuring go-karts, mini-golf, bumper boats, and a video arcade. The center counts with 3 sized go-kart tracks for different ages and height. Meanwhile, there are two mini-golf courses to choose from, the Old Town and the Lost Castle. The courses have lots of elevation changes which adds to the difficulty and interest.
Overall, this is a great place to go to in Sandusky if you have had enough of the traditional amusement parks with all the roller coasters. Attractions are sold separately but you can purchase a deal with several attractions combined.
19. Lagoon Deer Park
---
With over 200 animals, Lagoon Deer Park is a walk-thru petting zoo. Upon arrival make sure to purchase some feed so you can interact with the animals. The most popular residents are the llamas and deer.
Besides, you can fish in their calm, cool shaded lagoons. The most common fish there are rainbows, bullheads, channel cat, white bass, and carp. Even though you need to take your own fishing rod and baits, you do not need a state fishing license. This hidden gem along the North Shore of Lake Erie is an amazing experience for any age.
20. Sandusky Speedway
---
Sandusky Speedway had its first race ever in 1950 and since then it has become more and more popular amongst speed lovers in Sandusky. You can choose to simply watch or to be part of the races yourself. It feels great to get behind the wheel of an official car and drive it hard. The track is well built, and you can pick up momentum on each lap for the best experience. Just watch out for the exit off the track.
Besides, they offer the experience to all levels, including beginners. Overall, the grounds are well maintained and attractive and the track is smooth and even.
21. Maritime Museum of Sandusky
---
Exhibiting pirates, shipwrecks, and fishing boats, the historic venue of the Maritime Museum of Sandusky also features a boat-building workshop. There, you will learn all about the old days of Lake Erie when passenger boats, commercial fishing, and ice harvesting were the highlight of the region's economy.
The museum offers a scavenger hunt for the kids, so they have a more dynamic experience. They can also learn how to do nautical knots and build a small model boat to take home. And make sure to also check out the Underground Railroad Exhibit and learn the struggles of slaves from the 19th-century.
22. Castaway Bay
---
Castaway Bay is yet another resort with an indoor water park in Sandusky. However, this one is located in the narrow bay at the mouth of Pipe Creek where there are several resorts and marinas lined up.
The waterpark itself is the perfect size for younger kids to explore. The older kids definitely prefer the larger indoor waterparks in the area. But Castaway Bay being smaller allowed for more quality family time. Besides the water park and an arcade room, it also features a Snoopy meet and greet event, dance parties, and movie streaming.
23. Ohios Lake Erie Shores and Islands
---
Ohio's Lake Erie Shores & Islands is the place you need to stop and visit when you are in the Sandusky area and want to find out what amazing things are going on. The employees are super friendly and will let you know when and where the best activities in the area are at.
Cedar Point is not the only amazing thing to do in this area, there is so much history and many fun things to do if you are tired of waiting in long lines all day. Stop in, call, or check out the website for planning or expanding your experience along the shores of the beautiful Lake Erie.
24. Sandusky Mall
---
Sandusky Mall is a retail hub with an indoor mall and larger stores around the parking lot, plus dining options and a cinema theatre. With more than 70 stores, this is the only major shopping center within 45 miles. The mall is divided into 4 corridors with stores like JCPenney, Bath & Body Works, and Aeropostale.
The food court is also very busy with many restaurants and bars including Auntie Anne's, Mrs. Fields, and Cheers Sports Bar & Grill.
25. Berardis Family Kitchen
---
Serving local cuisine for over 75 years, Berardi's Family Kitchen offers an easygoing breakfast, lunch, and dinner place dishing up homestyle American and Italian favorites. And all of their desserts are made from scratch in the house. This is a family sit-down restaurant, not fast food. The food is fresh and well prepared. The most popular dishes are the chicken parmesan and the quiche.
Interestingly, the Berardi Family is quite traditional in Sandusky. They started their business by selling hand-washed and hand-cut French fries at the same time as they operated many of Cedar Point's rides.